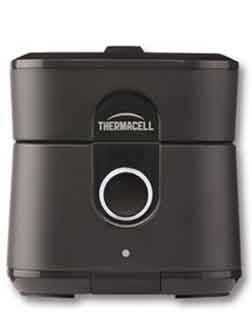 Mosquitoes are found on every continent except Antarctica and most islands. Its no wonder then that there is a never ending quest to get rid of mosquitoes. One of the more recent products for getting rid of mosquitoes is the Thermacell Radius. The Radius has racked up tons of happy customers around the world. Thermacell emits a scentless, invisible chemical shield that repels mosquitoes. However its not just mosquitoes breathing in this chemical so "Is thermacell safe to breathe?"
The active ingredient in the Thermacell Radius is Metofluthrin. Metofluthrin is a fairly new chemical created in 2005 by Sumitomo ChemicalCo., Ltd. It was approved by the EPA in 2006. Metofluthrin is extremely effective in killing mosquitoes. During initial testing it was found to be dangerous to dogs, rats, and rabbits. When frequently exposed to Metofluthrin the rats were more likely to develop cancer. So rats, rabbits, and dogs should avoid Metofluthrin but what about humans? Is thermacell safe to breathe?
The EPA has approved Metofluthrin in pest repellent devices including the Thermacell Radius. This means when used as directed you 'should' be fine. Take a look at the research links below and decide for yourself.
Now read our latest guide on the Thermacell Radius vs the Patio Shield or What Smell Repel Cockroaches