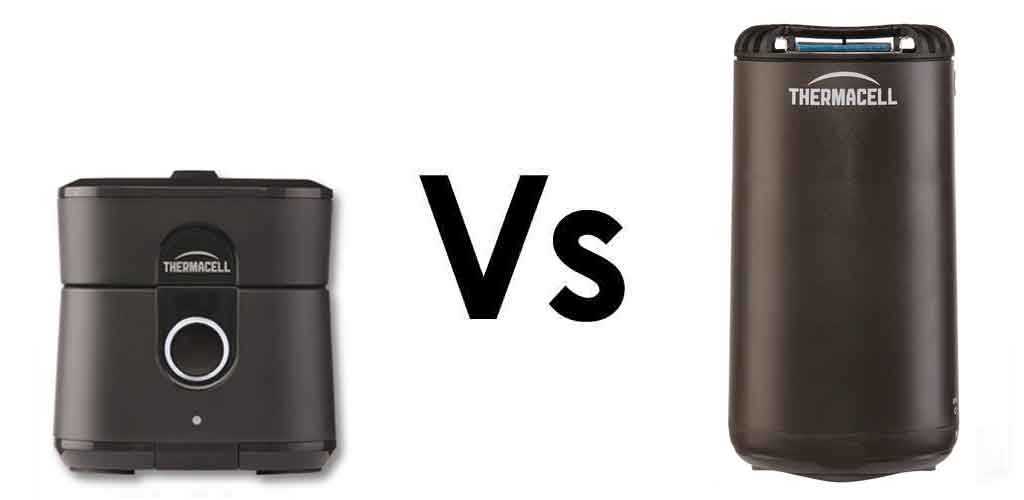 This site is supported by affiliate advertising. Which means we may earn some money if you click the product links. Thanks for your support!
Over the past few years Thermacell has become the go to brand for mosquito repellents. The Thermacell Patio Shield is now found in backyards and patios across America. However Thermacell now offers the Thermacell Radius which seems very similar to the original Patio Shield. While these products both do an excellent job repelling mosquitoes there are a few differences to understand before buying. Lets take a few minutes to dig into Thermacell Radius vs Patio Shield.
| | Thermacell Radius | Thermacell Patio Shield |
| --- | --- | --- |
| Active Ingredient | Metofluthrin | Allethrin |
| Fuel | Rechargable battery | Custom fuel cartridge |
| Coverage | 15 foot radius | 15 foot radius |
| Size | 3.1" x 1.9" x 3.3" (LxWxH) | 3.4" x 3.4" x 6.5" (LxWxH) |
| Fuel Duration | 6.5+ hours on a single charge, can operate while charging | A single fuel cartridge can last up to 12 hours |
| Mosquito Repellent Duration | 12 - 40 hours depending on size of the repellent cartridges | 4 hours |
Thermacell Radius vs Patio Shield Main Differences
The radius is an improvement from the Patio Shield in several areas. These are:
Size
Fuel Type
Fuel Duration
Repellent Duration
They are about even on coverage area and while they use different pest repellent chemicals both are proven to repel mosquitoes. Below is a bit more detail on the main differences
Thermacell Radius vs Patio Shield, Which Lasts Longer?
Thermacell traded fuel cartage's out for batteries in the radius. Since fuel cartridges can get pricey this was definitely a customer friendly move. Not only are batteries easier and cheaper but they usually last longer. Plus even if the batteries die you can run the Radius while its charging. In addition to battery power the Radius also uses a repellent mat that can last up to 40 hours. Clearly the Radius wins this round of Thermacell Radius vs Patio Shield
Thermacell Radius vs Patio Shield, Size
If you want an inconspicuous mosquito repelling device the Radius fits the bill. Being able to fit in the palm of your hand means you can place the Radius on most level surfaces out of sight and enjoy a mosquito free zone. In contrast the Patio Shield is more than twice as big and more noticeable. Once again point Radius as its effective and easy to keep out of sight.
Bottom Line
The new Thermacell Radius is worth trying out. It out performs the old Thermacell Patio Shield in almost every way. From ease of refueling to duration, the Thermacell Radius is a quality mosquito repelling product. One other comparison point I like to review is amazon customer reviews. As of August 2020 the Radius had nearly three times as many positive reviews as the Patio Shield.
For even more info on the Thermacell Radius watch this video from Thermacell
You might also be interested in "How to apply diatomaceous earth"?