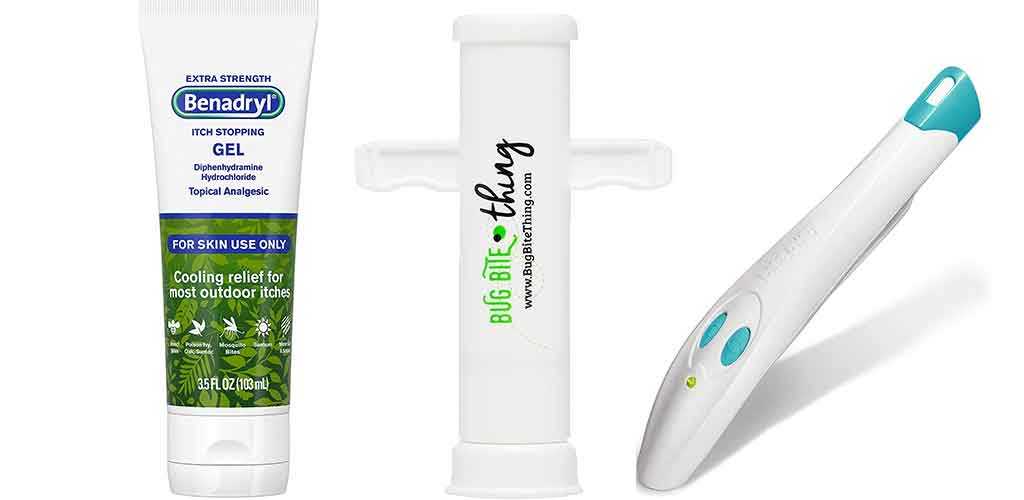 Shorts, grilling, camp fires, green grass, and late sun sets. Those are all sure signs of warm weather, unfortunately the good times also come with unwelcome visitors, mosquitos. Eventually we all end up suffering through a painful mosquito bite. Thankfully there are several treatments to put on a mosquito bite to get better faster. Lets take a quick look at some of the best things to put on mosquito bites.
Best Thing to Put on Mosquito Bites, Bug Bite Thing
The first thing to put on mosquito bites is Bug Bite Thing. Bug Bite Thing was introduced in 2017 by the mother and daughter team Kelley Higney and Ellen McAlister. When they were unable to find an effective way to deal with mosquito bites they decided to see how other countries deal with insect bites. They discovered an innovative product that used suction to remove the insect saliva or venom which then reduced and even eliminated the irritation, stinging, and swelling, instead of disguising the symptoms. Amazed by the effectiveness of the suction product, Kelley took her discovery to "Shark Tank" where she received offers from all the Sharks. Since the "Shark Tank" deal Bug Bite Thing's business has taken off. Based on Amazon review lots of people agree this is the best thing to put on mosquito bites.
How Does Bug Bite Thing Work?
When you get an insect bite or sting the insects venom or saliva gets injected just under your skins surface. Then venom or saliva causes your body to react with swelling and itching. Bug bite thing extracts irritants left behind by insects by sucking them back out. Once the irritant is removed your body stops creating the reaction, which stops the itching stinging and swelling.
Best Thing to Put on Mosquito Bites, Bite Away
The second thing to put on mosquito bites is Bite Away. This gadget is designed to relive the itching, pain and swelling associated with insect stings and bites with concentrated heat. The idea is to apply localized to the bite to trigger a response from the body that reduces itching and pain which also can reduce swelling. Bite Away is clear that it does not make the bite go away, it just helps you cope with the symptoms.
How Does Bite Away Work?
Bite Away has a ceramic contact point that is placed on the sting or bite. Once placed on the bite you press a button to instantly heat the ceramic contact point to over 120 degrees Fahrenheit. This temperature is held for either 3 or 5 seconds depending which button you select. If your up for a shot of heat see if you agree that the Bite Away is the best thing to put on mosquito bites.
Best Thing to Put on Mosquito Bites, Benadryl
The third thing to put on mosquito bites is Benadryl. Most likely you have a bottle of Benadryl at home right now. Benadryl is an antihistamines which means it helps stop your immune system from over reacting and causing inflammation. Benadryl Extra-Strength Itch Stopping Gel is a topical solution that provides fast relief from pain and itching. Made with 2% diphenhydramine HCI topical analgesic, Benadryl is effective with insect bites, sunburn, scrapes, minor skin irritations, burns, and cuts.
Now read our latest guide on the Thermacell Radius vs the Patio Shield or What Smell Repel Cockroaches or "Whats the Best Under the Hood Rodent Repeller"?